Sol Saucedo-Butzke - our model at open studio this past Saturday inspired me to look up Jesus Helguera a Mexican painter who I always liked.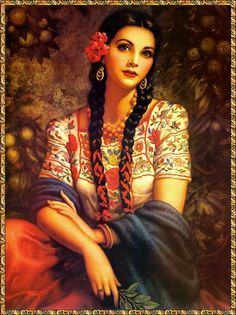 I always liked his pretty women in traditional clothing. Now I realize my style of painting is hardly idealized realistic in nature like Helgeura's, but I thought attempting a different style would be interesting. Well, the blank wall put me off, so I rescued the striped blanket and made it the backdrop.
Yes, so much for good intentions. So you see the painting I ended up with.
I wasn't too surprised when my finished piece was more like something Matisse would have done.
Which when I think about is okay too. I just couldn't bear paint a relatively barren(at least to me) brownish background. I'm a firm believer in using the model and their environment as a jumping off point.
I am what I am....a colorist at heart.
Does your nature as an artist sabotage your good intentions?